Eclipsmart Solar Safe Products
Prepare for the biggest astronomical event in our lifetime with EclipSmart optics and observing kits.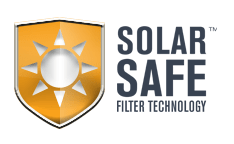 EclipSmart solar products feature Solar Safe filter technology providing the ultimate protection from harmful solar radiation, including both IR and UV light, and filters 99.999% of intense visible light. Celestron Solar Safe filter technology is GUARANTEED SAFE for direct solar observation and has been independently tested by SAI Global Assurance Services.
Solar Safe products conform to and meet the transmission requirements of ISO 12312-2, Filters for Direct Observation of the Sun, EN 1836:2005 + A1:2007 (E) for an E15 Filter for the Direct Observation of the Sun and, AS/NZS 1338.1:2012, Filters for Eye Protectors.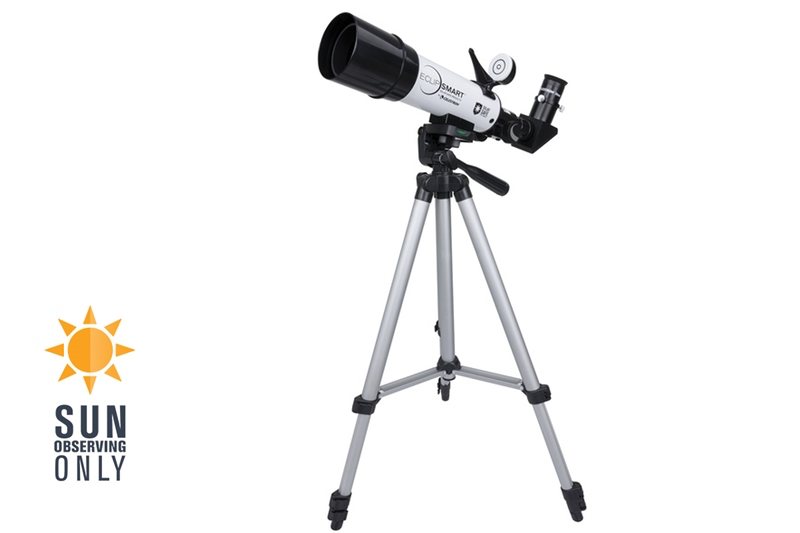 EclipSmart Solar Scope 50 Kit
Dedicated white-light solar scope for the observer on the go. The 50 mm refracting solar scope uses Celestron's Solar Safe, ISO compliant, full-aperture glass filter material to ensure the safest view of solar events. The kit comes complete with everything you need, including the dedicated solar scope, a Solar Safe finderscope, tripod, a high quality 20 mm (18x) Kellner eyepiece and a nylon backpack to carry everything in. This solar scope makes it easy to share an eclipse with the whole family and offers much higher magnifications than you would otherwise get using handheld solar viewers or binoculars.
50 mm fully coated glass optics give a nice crisp focus to see sunspot groups
Full aperture ISO compliant glass solar filters our permanently mounted glass filters have been independently tested to meet ISO standards for safe direct viewing of the sun. The filters are permanently attached and cannot be accidentally removed while observing
Solar safe finderscope allows you to easily align the solar scope to the sun without directly viewing the sun. Just line up the shadow of the pointer with the center of the target reticle and the sun should appear in your eyepiece
Photo-style alt-azimuth mount & tripod allows easy adjust and aiming of the telescope while offering great stability. The solar scope can point straight overhead without interference
20 mm Kellner (1.25') eyepiece offers 18x magnification for a good image scale while offering a wide field if view to make it easier to track the sun's apparent motion
Includes lightweight and convenient backpack holds and protects your solar scope, tripod and all of the accessories, making it easy to carry to remote observing sites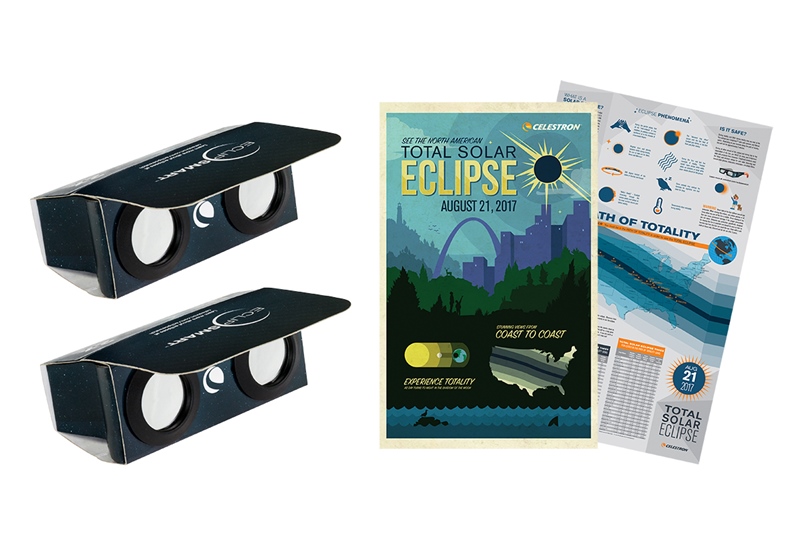 EclipSmart Power Viewers
The EclipSmart 2x Power Viewers Sun and Eclipse Observing Kit is designed to view eclipses and general solar viewing for you and a friend- at 2X magnification! You can even see sunspots on the surface of the Sun. The 2X Power Viewers fold up and fit easily in your pocket. The included Eclipse Transit map/24x36 inch vintage travel poster has detailed information for the 2017 total solar eclipse and can be hung on your wall.
ISO compliant solar safe film protects your eyes when viewing the sun, unlike some other filters on the market
Solar film produced in the USA by American Paper Optics, one of the suppliers recommended by NASA for safe solar viewing
EclipSmart 2x Power Viewers give you a closer look at the solar eclipse
Folds up easily to fit in your pocket for easy stowage
2 pack allows you to share the Eclipse experience with your friend
Included Eclipse Transit map that folds out to a 24x36 inch vintage travel poster - contains eclipse history, fun facts, maps, timetables and viewing tips
​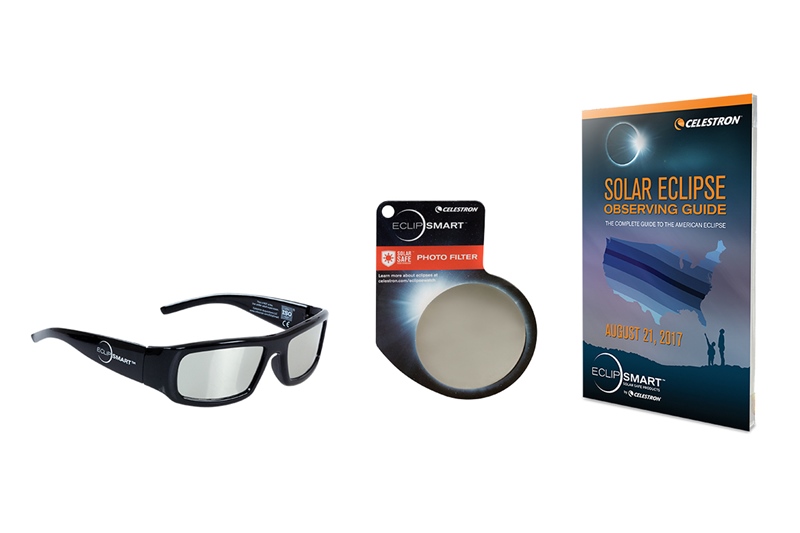 EclipSmart Deluxe 3-Piece Kit
The EclipSmart Deluxe 3 Piece Sun Observing and Imaging Kit includes one pair of hard frame, wrap-around style solar glasses, a uniquely designed Solar Imaging filter, and a solar eclipse booklet with all the information you need for the upcoming North American eclipse. Both the glasses and the photo filter are made with Celestron's ISO compliant Solar Safe film ensuring safe viewing of the solar eclipse.
ISO compliant solar safe film protects your eyes when viewing the sun, unlike some other filters on the market
Solar film produced in the USA by American Paper Optics, one of the suppliers recommended by NASA for safe solar viewing
Premium hard frame, wrap-around EclipSmart Solar Glasses featuring Solar Safe filter technology for guaranteed safe observation of the Sun.
Innovative EclipSmart Photo Filter featuring Solar Safe technology for taking still images and video of the solar eclipse with your DSLR, point and shoot camera, or smartphone
The included 32-page eclipse book is full of eclipse information and a complete timetable and transit map for the upcoming North American total eclipse on August 21st, 2017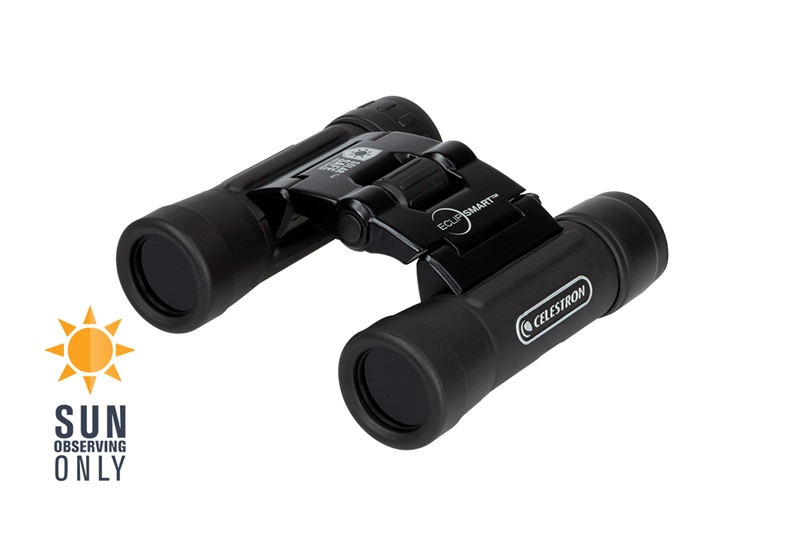 EclipSmart 10x25 Compact Solar Binoculars
The Celestron EclipSmart 10x25 mm Solar Binocular is compact in size making it the perfect outdoor companion. The size makes it easy to carry from one viewing location to another and can even fit within a coat pocket! These binoculars also provide a generous field of view allowing for a full image of the solar disk to be seen.
Premium EclipSmart Solar Binoculars featuring Solar Safe filter technology for guaranteed safe observation of the Sun
Dual lens non-removable glass solar filters fully meet ISO12312-2 - Safe viewing of the sun when used in accordance with the included instructions
ISO compliant solar safe film protects your eyes when viewing the sun, unlike some other filters on the market
The generous field of view allows users the ability to easily locate and view the entire solar disk while observing
Observe the natural details of the Sun, including daily sunspot activity
Durable and rugged for protection during use and storage provided by the rubber armored aluminum body